МАЛОИЗВЕСТНЫЕ СВИДЕТЕЛЬСТВА О НАЧАЛЬНОМ ПЕРИОДЕ ПРЕБЫВАНИЯ ПРП. ПАИСИЯ ВЕЛИЧКОВСКОГО ПРИ КАЛИВАХ ПАНТОКРАТОРСКОГО МОНАСТЫРЯ НА АФОНЕ
Ключові слова:
Паисий Величковский, Афон, Святая Гора, Пантократорский монастырь, Калива, Кипарис, Константиновская келлия.
Анотація
Статья посвящена исследованию начального периода пребывания старца Паисия Величковского на Афоне в 1746 – 1754 гг. Поскольку этот вопрос ранее не подлежал подробному изучению, исследование представляет собой важное значение в вопросе восполнения «белых пятен» не только в биографии подвижника, но и в истории славяно-молдавского монашества на Афоне. Автор использует малоизвестные источники. Анализируется положение отечественного монашества на Афоне в рассматриваемый период, причины, по которым Паисий Величковский на начальной стадии вынужден был влачить нищенское существование и хотел покинуть Афон, подробно исследуется вопрос его перехода от уединенного отшельничества к общежительству и созданию собственного монашеского братства. На основе анализа источников и свидетельств автор устанавливает точное месторасположение каливы «Кипарис» и других приобретенных прп. Паисием калив, а также первоначальный состав его монашеской общины. В статье автор на основе имеющихся источников устанавливает имя многолетнего афонского духовника Паисия Величковского – старца Даниила из Ватопедского скита св. Димитрия. Отмечено, что указанные Паисиевские очаги на Афоне являются важной составляющей истории, духовной культуры, традиции и наследия украинского и молдавского монашества на Афоне, и имеют особую историческую и сакральную ценность. Поскольку эти святые места ныне пребывают в заброшенном состоянии, автор акцентирует внимание, что они нуждаются в проведении дальнейших исследований (в т. ч. археологических), реконструкции и восстановлении. Научная новизна заключается в том, что в статье комплексно исследованы предпосылки и процесс создания и деятельности монашеской общины под руководством украинского подвижника прп. Паисия Величковского в начальный период его пребывания на Афоне. На основе анализа агиографических источников и опубликованных материалов выявлены малоизученные аспекты развития и деятельности этого монашеского очага на Афоне.
Посилання
Arhiv Russkogo na Afone Panteleimonova monastirja (ARPMA) [Archive of Russian at Athos Panteleimonov Monastir (ARAPM)], оp. 10, d. 1, dok. A000083, l. 111 ob. (in Slavic).
Arhiv Pantokratorskogo monastyrja na Afone (APMA) [Archive of the Pantocratorial Monastery on Mount Athos (APMA)], f 4/1 – f 4/18. (in Greek).
Aρχείο Πρωτάτου, 1991. Eπιτομές μεταβυζαντινών εγγράφων [Protatos Archive. Epitomes of post-Byzantine documents], Αθωνικά Σύμμεικτα 2, X. Γάσπαρης, Aθήνα, Σ. 68-69. (in Greek).
Cuviosul Paisie de la Neamţ Velicikovski [The pious Paisie from Neamţ Velicikovski], Autobiografia şi Vieţile unui stareţ, urmate de Aşezăminte şi alte texte, 2002. Ediţia a II-a., Sibiu: Deisis, р. 29–85. (in Romanian).
Chetverikov, S., 2006. Moldavskij starec Paisij Velichkovskij. Ego zhizn', uchenie i vlijanie na pravoslavnoe monashestvo [Moldavian Elder Paisiy Velichkovsky. His life, teaching and influence on Orthodox monasticism], Minsk: Elisavetinskij monastyr', 375 s. (in Russian).
[Grigorovich-Barskij, V.G.], 1793. Peshehodca Vasilija Grigorovicha-Barskago-Plaki-Albova, urozhenca kievskago monaha antiohijskago, puteshestvie k Svjatym mestam, v Evrope, Azii i Afrike nahodjashhimsja, predprinjatoe v 1723, i okonchennoe v 1747 godu, im samim pisannoe [The pedestrian Vasily Grigorovich-Barskago-Plaki-Albov, a native of Kiev, the monk of Antioch, traveling to the Holy places in Europe, Asia and Africa, undertaken in 1723, and completed in 1747]. v 2 ch., ch. 1–2, Sankt-Peterburg: Tip. Imperatorskoj akademii nauk, s. 612–691. (in Russian).
[Mitrofan, shim.], 2014. Zhitie i podvigi blazhennogo otca nashego starca Paisija [The life and exploits of the blessed father of our elder Paisius], Prepodobnyj Paisij Velichkovskij. Zhitie i izbrannye tvorenija, Serpuhov: Nasledie pravoslavnogo vostoka, s. 163–303. (in Russian).
Pashalidis, S., 2017. Svjatoj monastyr' Pantokrator. Putevoditel' palomnika [The Holy Monastery of Pantocrator. Pilgrim Guide], Afon: Izd-vo Pantokratorskogo monastyrja, 220 s. (in Russian).
[Platon, shim.], 1847. Zhitie i pisanija moldavskogo starca Paisija Velichkovskogo s prisovokupleniem predislovij na knigi sv. Grigorija Sinaita, Filofeja Sinajskogo, Isihija Presvitera i Nila Sorskogo [The life and writings of the Moldavian elder Paisius Velichkovsky with the addition of forewords to the books of St. Gregory of Sinai, Philotheus of Sinai, Ishihius of Presbyter and Nile of Sora], Izd. Kozel'skoj Vvedenskoj Optinoj pustyni; [Sost. Leonid (Kavelin L.A.)], 2-e izd. s prib. Moskva v Universitetskoj tip., [2], XVI, 302, II, IV s.: 1 l. front. (in Russian).
Prepodobnyj Pajisij Velychkovsjkyj, 2016. «Povistj pro svjatyj sobor» ta malovidomi lysty [«The Story of the Holy Cathedral» and little-known letters]. Uporjad. ta komentari Shumyla S. V., Kyjiv: Vydavnychyj viddil UPC, 207 s.
Răspunsul stareţului Paisie către Atanasie Moldoveanul, 2010. [The answer of the abbot Paisie to Atanasie Moldoveanul], Pelin, Valentina. Cândea, Virgil (ed.): Cuvinte şi scrisori duhovniceşti, Iaşi, р. 38–108. (in Romanian).
Shumilo, S. V., 2015. Prp. Paisij Velichkovskij i Zaporozhskaja Sech'. Maloizvestnye pis'ma prp. Paisija Velichkovskogo k Koshevomu atamanu Vojska Zaporozhskogo Petru Kalnyshevskomu [Rev. Paisius Velichkovsky and Zaporizhzhya Sich. Little-known letters prp. Paisiya Velichkovsky to the Ataman of the Army of Zaporizhia Petr Kalnyshevsky], Kiev-Serpuhov: Mezhdunarodnyj institut afonskogo nasledija v Ukraine; «Nasledie Pravoslavnogo Vostoka», 128 s. (in Russian).
Shumilo, S. V., 2017. Neizvestnoe pis'mo prp. Paisija Velichkovskogo za 1763 g. i drugie dokumenty, kasajushhiesja ego igumenstva v monastyre Simonopetra [Unknown letter rev. Paisia Velichkovsky for 1763 and other documents relating to his abbess in the monastery of Simonopetra], Afonskoe nasledie: nauchnyj al'manah, vyp. 5-6, Kiev-Chernigov: Izdanie Mezhdunarodnogo instituta afonskogo nasledija, s. 231–255. (in Russian).
Shumilo, S. V., 2017. Prp. Paisij Velichkovskij i popytka vossozdanija Rusika v monastyre Simonopetra: neizvestnye pis'ma s Afona [St. Paisius Velichkovsky and an attempt to recreate Rusik in the monastery of Simonopetra: unknown letters from Athos]. Rus' – Svjataja Gora Afon: Tysjacha let duhovnogo i kul'turnogo edinstva. Materialy Mezhdunarodnoj nauchnoj konferencii v ramkah jubilejnyh torzhestv, priurochennyh k prazdnovaniju 1000-letija prisutstvija russkogo monashestva na Afone, 21–23 sentjabrja 2016 g., Moskva, s. 318–338. (in Russian).
Shumilo, S., 2018. The First Russian Monks on Mount Athos, Mount Athos and Russia: 1016 – 2016. Ed. N. Fennel, G. Speake, Oxford, р. 23–44. (in English).
Shumylo, S. V., 2018. Rusjka Uspensjka lavra na Afoni ta Antonij Pechersjkyj [Rus` Assumption Lavra on Mount Athos and Anthony Pechersky], Ukrajinsjkyj istorychnyj zhurnal, NANU, Instytut istoriji Ukrajiny, № 5, s. 4–20. (in Ukrainian).
Shumylo, S. V., 2020. Do pytannja pro pokhodzhennja rodu prp. Pajisija Velychkovsjkogho i jogho zv'jazky z Chernighivshhynoju [To the question of the origin of the genus Paisiya Velichkovsky and his connection with Chernihiv], Siverjansjkyj litopys: Vseukrajinsjkyj naukovyj zhurnal, sichenj-ljutyj, № 1 (151), s. 153–154. (in Ukrainian).
Tachiaos, Anthony-Emil N., 1986. The Revival of Byzantine Mysticism Among Slavs and Romanians in the XVIIIth Century. Texts Relating to the Life and Activity of Paisy Velichkovsky (1722 – 1794), Thessaloniki, р. LV+296. (in English).
Tahiaos, A.-Je., 1994. Predvaritel'nyj spisok polnoj bibliografii o sv. Paisii Velichkovskom [A preliminary list of the complete bibliography of St. Paisii Velichkovsky], Cyrillomethodianum, № 17–18, s. 212–227. (in Russian).
Viaţa cuviosul paisie de la Neamţ, 1997. [Life of the pious country from Neamţ], Iaşi: Trinitas, р. 29–85. (in Romanian).
Velichkovskij, Paisij, 2014. Pervoe poslanie iereju Dimitriju [First Epistle to Priest Demetrius], Prepodobnyj Paisij Velichkovskij. Zhitie i izbrannye tvorenija, Serpuhov: Nasledie pravoslavnogo vostoka, s. 408–409. (in Russian).
Zhgun, P. B., Zhgun, M. A., 2008. Shiarhimandrit Paisij (Velichkovskij) Njameckij [Schiarchimandrite Paisius (Velichkovsky) Nyamets]. Prin ortodoxie și umanism spre reintegrarea Moldovei. Materialele Conferinţei Știinţifico-Teologice, Chișinău, s. 28–29. (in Russian).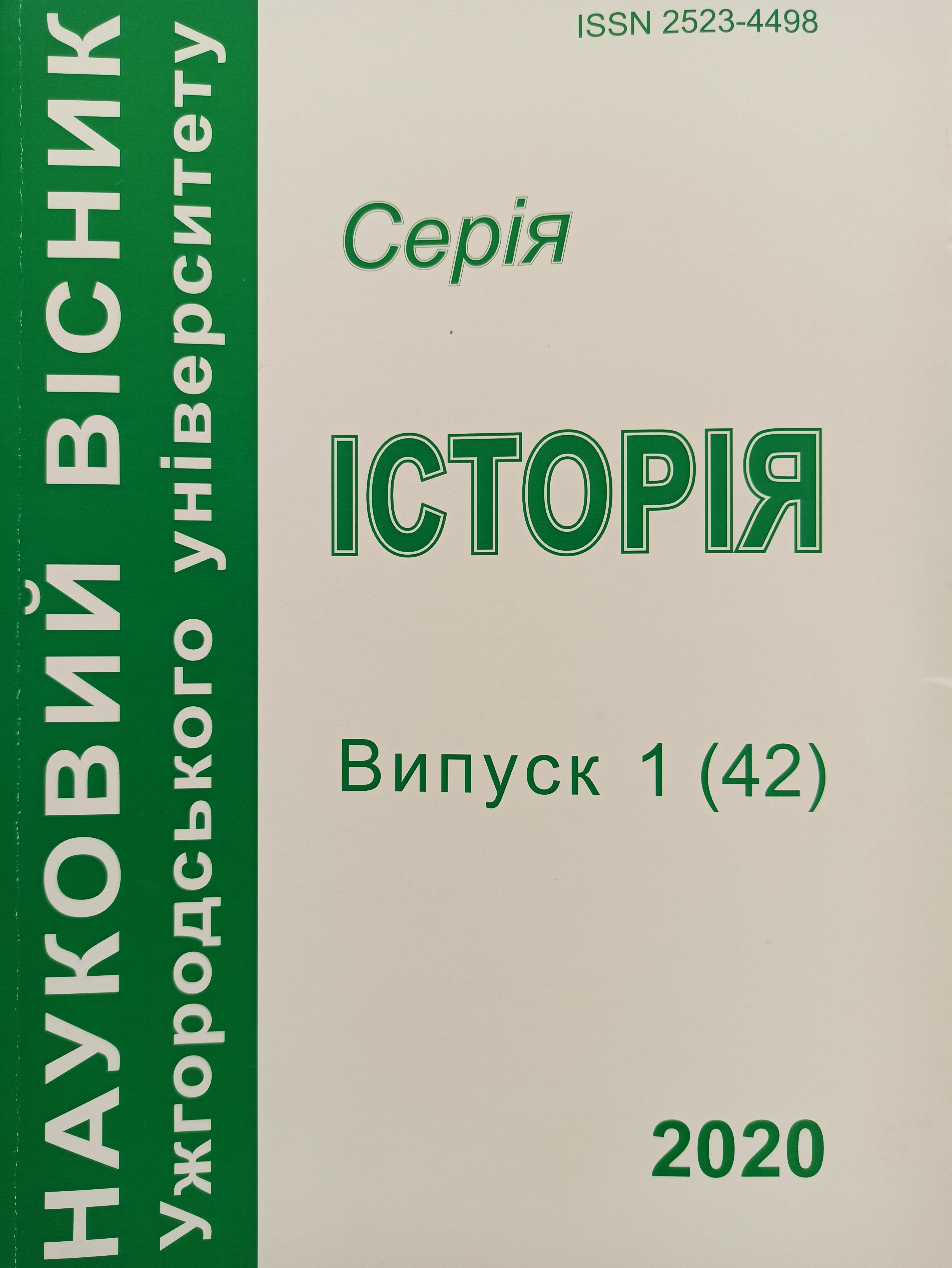 ##submission.downloads##
Ліцензія
Це журнал із відкритим доступом, що означає, що весь вміст є у вільному доступі користувачеві або його установі безкоштовно. Користувачам дозволяється читати, завантажувати, копіювати, розповсюджувати, друкувати, шукати або посилатись на повні тексти статей, або використовувати їх у будь-яких інших законних цілях, не вимагаючи попереднього дозволу видавця чи автора. Це відповідає визначенню BOAI щодо відкритого доступу.